Cassie M. Meyer
Attorney At Law
Cassie is a graduate of the University of Montana's School of Law. Previously she received a Bachelor's Degree in Communications with an emphasis in Public Relations from Montana State University.
She is a fourth generation Montanan who was born and raised in Missoula.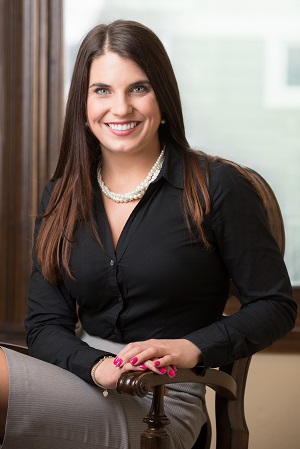 While in law school, Cassie was an active participant in numerous extracurricular activities.  She studied abroad in Santiago, Chile, where she focused on Human Rights, Cross-Cultural Negotiations, and red wine.  Cassie was secretary of the Veterans Law Group, Military Legal Society, and the Criminal Law Student Group.  She was also an active member of OUTLaws, the Women's Law Caucus, and the Montana Innocence Project.  Cassie was also a law clerk at Douglas Harris Law Offices where she gained a wide breadth of experience in aspects of civil litigation law.
Of her extracurricular activities, Cassie was most passionate about the Montana Innocence Project.  She spent her time helping the organization procure victories working for the exoneration of Montana's wrongfully convicted.  Cassie developed a passion for this organization and remains active in supporting them and fulfilling their mission.
Cassie is an avid runner and a member of Run Wild Missoula.  She loves the outdoors and exploring all Western Montana has to offer.  She also has a passion for travel that has taken her to Argentina, Brazil, Cambodia, Chile, Germany, Mexico, Peru, Uruguay, and Vietnam.
Cassie's regular companion is Jaxon, a nine-year-old Golden Retriever who is a costume enthusiast and a former doggie-model.  Jaxon loved to take long hikes and runs with his mom while she trained for half-marathons and marathons, but has taken a liking to snoozing in his older age.